The opportunity of living an evening that takes us back to the Middle Ages doesn't happen every day. Well, both for those who enjoyed the history of the streets of Barcelona daily as for those who visit the city and discover medieval buildings for the first time, we offer the opportunity to enter a unique palace and live an evening where you will travel back to the 13th and 15th centuries. Our team had the opportunity to do so last week and besides being greeted by jugglers, fire and knights, we experienced the idea of becoming a host in a castle.
We started touring the Recasens Palace, a building in the Gothic Quarter considered the most important private palace of the city. Perched on the Roman walls, the old watchtower houses books that are over 300 years old and heading up to the highest part rewards with spectacular views of the old town. After visiting the palace from the inside, we discovered other rooms that took us back to the lifestyle of the Middle Ages and which are used nowadays by the Royal Academy of Letters, an institution that promotes the knowledge of Catalan history and literature.
In a privileged setting, we entered a room for dinner that followed the indications of the delicacies of the time … fruit, meat, wine and other ingredients filled up a tasting menu that made us become the guests of the "Virreina Isabel de Requesens". Dinner ended with medieval music and an amazing show full of fire, sword fights between knights, dancing and juggling.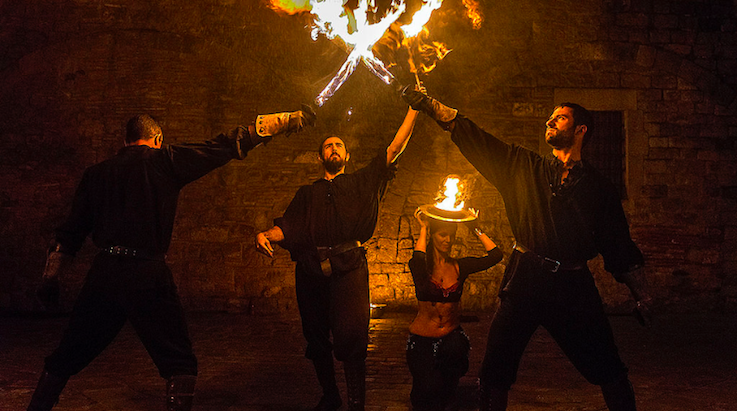 While you learn the history of the city, do you want to get immersed in the life of a guest of the Middle Ages? Contact us and we will organize an evening in which you will discover an unknown medieval Barcelona.
info@mimusa.pro