They were born as an alternative to large hotel chains, whose standards are repeated in every city. Nowadays, they have become popular in major capitals and are perfect for discerning when it comes to find a good place for sleeping. Boutique hotels are places with personality, character and style. They are intimate, luxurious and are often hidden behind facades that denote no clue of what's behind it. Located in large cities, they are spaces that prioritize design and architecture and assure a personalized service like no other. With very few rooms, they also become focal points for visitors looking for a dining experience, a place to enjoy a drink or a simple opportunity to discover the wonders that are hidden within its walls. In this article, we want to introduce you our five proposals of boutique hotels in Barcelona, five choices of unique spaces that will impress by their personality.
Hotel Mercer
We enter a room full of history inside the Mercer hotel, an innovative boutique hotel in the Gothic Quarter situated between Roman walls and medieval arches. Inaugurated in 2012, it has become a unique place for its heritage value as it is formed of architectural pieces dating from various historical periods which are incorporated to the contemporary design of the space. Under a unique environment they also have many culinary offerings: a restaurant serving Mediterranean cuisine, a tapas bistro with traditional dishes and a wide menu of cocktails served in the outdoor terrace. There is no better place than this one if you want to live a unique experience in the heart of the city.
Location: Carrer dels Lledó, 7 (Gothic Quarter)
Rooms: 28
Website: www.mercerbarcelona.com
The rooms preserve the architectural treasures of the building mixed with modern
Margot House
Margot Tenenbaum is deep and with personality, a woman who gives off a special aura. She is the protagonist of the film "The Royal Tenenbaum" and has been the inspiration for the creators of Margot House to name this hotel. Located in the luxury shopping promenade, this boutique hotel is hidden behind a facade in the section of "the discord's apple" or the series of five Catalan modernist buildings. With only nine rooms, it features furniture and bedding of the highest quality, like their cashmere blankets or their pure cotton towels from turkish hammanes. With a 24 hour service, you'll find coffee, teas and pastries along with a selection of books and magazines in their library. With a personalized and familiar service, this hotel is ideal for feeling like home.
Location: Paseo de Gracia 46 (Eixample)
Rooms: 9
Website: www.margothouse.es
The Margot hotel will do everything in order for you to feel like at home during your stay
Hotel The Serras
The sea breeze reaches this luxury boutique hotel, an elegant five-star hotel overlooking the Mediterranean. Although the building dates from 1846, the hotel opened just over a year ago and has already become a reference site for the most luxurious holidays by the sea. With a New York style, its design pays homage to the industrial past of the city and the hydraulic tiles incorporate a nod to the modernist architecture. Under an unremarkable setting, the priority of the hotel is to provide unsurpassed personalized service. Marc Gascons is the restaurant's chef and the one responsible to give the best flavor to their dishes. Awarded with a michelin star, Gascons offers a menú with products of proximity. On the top floor you will find the Rooftop with a swimming pool, a restaurant and amazing views that will ensure you to fly back home completely renovated.
Location: Passeig de Colom, 9 (Barceloneta)
Rooms: 30
Website: www.hoteltheserrasbarcelona.com
The building where the hotel is located in was originally Pablo Picasso's studio
Hotel Neri
A few steps away from the Cathedral we find the Neri Hotel, a space that brings together two historic buildings, one of which is a medieval palace of the XII century. Ideal for discovering the city center by foot, this boutique hotel welcomes your pet and offers personalized services for families with children. Breakfast is served in the library, which also becomes the perfect place t oread and have coffee and tea during the rest of the day. Late in the afternoon you can relax on the terrace of the 4th floor with a glass of wine while enjoying a jazz concert.
Location: Sant Sever, 5 (Gothic Quarter)
Room: 22
Website: www.hotelneri.com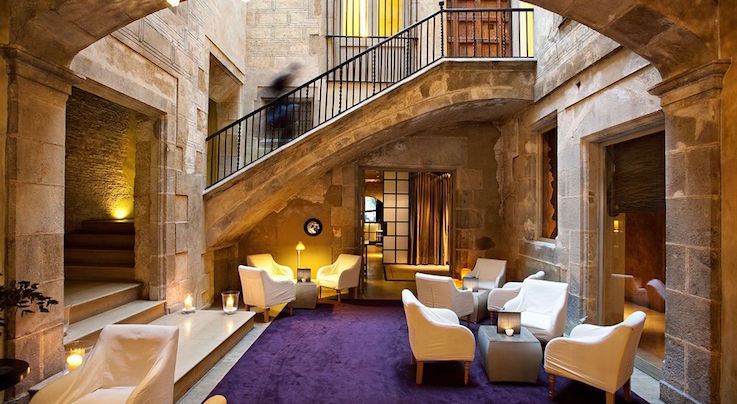 Dive into the most historical Barcelona while staying in this wonderful hotel, an oasis in the heart of the city
Hotel DO
The most popular and trendy interior designer in Barcelona, Lazaro Rosa Violán, has been commissioned to acclimate the DO Hotel. Considered a gourmet boutique hotel and located in the historic center, it offers different culinary proposals to their guests and visitors. The restaurant "La Cuina del DO" is located in the cellar of the hotel and has a fine menu of dishes inspired in the Mediterranean cuisine and based in proximity and seasonal products. "La Terrassa" offers a more relaxed and informal proposal with dishes, tapas and wine glasses livened up with the atmosphere of la Plaza Real. Located on the top floor of the hotel, "El Terrat" is the perfect area to enjoy a panoramic view of the rooftops of Ciutat Vella along with a menu of Catalan dishes and drinks for those who want to extend dinner.
Location: C/ La Rambla, 20 (Ciutat Vella)
Rooms: 18
Website: www.hoteldoreial.com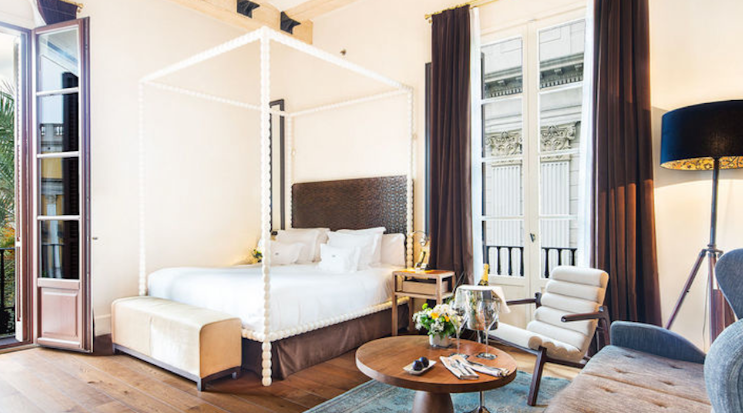 This hotel is considered the first gastronomical hotel and is frequented both by tourists and locals
We know it is quite difficult to decide between all these choices but we assure that all of these options are a good deal to make your stay unique. We are daily connected with all of these hotels and will always offer a plus in the service so don't hesitate in contacting us through info@mimusa.pro if you need help in organizing your trip to Barcelona.