December is definitely the month of Christmas shopping. The streets dress up and showcases are illuminated to call our attention. Some consider this time of the year as a mandatory free time to shop, however, we suggest yo to enjoy a different Christmas with activities that will make you delve as ever into Catalan tradition.
One of the classics in Barcelona during Christmas is the Santa Llúcia Fair. Until December 23rd, the Cathedral Avenue is full of artisans exhibiting objects and other Christmas figures made by hand. We recommend you to come by foot because there is nothing better than wandering around the 280 stands and leave with a unique souvenir that will remind you forever of your stay in Barcelona.
In a Spanish table there is no Christmas dinner without "turrones" and "polvorones". For those who don't know what they are, "turrón" is a sweet dough obtained when cooking honey or sugar with toasted almonds and other ingredients such as chocolate, eggs, hazelnut, coconut and truffle among others. We suggest you to take a walk through the "Torrons Vicens" store just by La Pedrera, a brand with a long "turrón" tradition which nowadays offers a wide range of products that can sweeten up your meals. This year, the company has also decided to combine haute cuisine with the Agramunt tradition and create a new concept of "turrón". The renewed chef Albert Adrià has joined the team and proposes new recipes that recall different desserts like bread, oil and chocolate or even carrot cake. Definitely a treat for all the senses.
Turrón is the sweetest dessert in catalan tables
Another must stop and one of the most emblematic places in the city known for its tradition is Caleum. Located in the gothic quarter, it is both a cafe and a shop. There you will find all sorts of products home made by nuns ​​in cloistered monasteries all around Spain. Divine temptations like cookies, Santa Teresa yolks or chocolate truffles considered " the sin of Judas ," will switch you off and dive you directly to paradise.
All products in Caleum are home baked by nuns in monasteries around Spain
With religious connotations, activities that recall Jesus's birth are also celebrated during Christmas in Barcelona. One of it is the Midnight Mass, this Mass is celebrated at midnight on December 24th in all churches around the city or even during the same morning of Christmas Day . We recommend entering the Santa Maria del Mar Cathedral in El Born and listen " El Cant de la Sibil.lia ", an original Gregorian chant from the Middle Ages.
Many of us love to dress our home for the occasion and with just entering Luzio we feel inspired to start. Baobab candles, pearly red balls, flowered Christmas centers for your tables, and everything else necessary to create a welcoming atmosphere will be displayed in this store. Managed by two interior designers used to make decorative projects at all levels, in Luzio you will find 800 squared meters of ideas to enjoy the most elegant Christmas.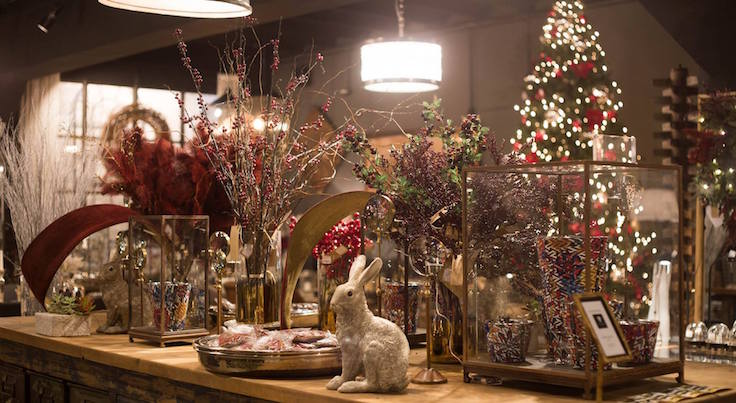 Be ready to find all kinds of details to dress up your home for the most special nights of the year
After a full day of traditions and activities, we need to take credit for it. If we don't eat during Christmas, when will we? There is a place equally exquisite for its tradition and homemade products which becomes a must stop while walking around downtown. We fully recommend a cup of chocolate and churros or melindros in "Granja La Pallaresa", the best way to close a Christmas day in Barcelona.
If you wish to organize a stay in Barcelona and enjoy Christmas from another point of view, do not hesitate to contact us. We will be happy to make you discover the most unique corners of the city during one of the most magical times of the year.