Very close to Barcelona, we find a coastal paradise called Costa Brava, popularly known as the Catalan Tuscany. Escaping to the region of the Costa Brava and Emporda is always guarantee of disconnection, privileged views and Mediterranean's exquisite gastronomy.
Who doesn't know who Dali is? A reference in the world of art and an icon of catalan's culture from who we can still enjoy his works visiting the castle he built for her beloved Gala, located in the small village of Pubol. This will be our first stop, an obligatory visit for anyone who's passionate for art. Following to this, we will go to an area known as "l'Empordanet" where we'll visit the medieval villages of Pals and Peratallada. We will walk through their small streets while we learn about its history and enjoy of all the charm that surrounds all the churches and architecture constructed basically in stone
One of the afternoons would be interesting to reserve it to walk around the villages of Calella or Begur, where we find beautiful boutiques of ceramics, artisan and local products and we will take the opportunity to have a coffee in the center of the village while we contemplate the local atmosphere.
Visiting Costa Brava on foot is already an amazing experience but… Don't you feel like discovering how does it look like seen from the seaside while navigating on a motorboat or a sailboat? An otherworldly experience to breathe fresh air, have fun and… see the fishing villages of the Catalunya from a unique perspective!
As in all good route around the catalan coast, good gastronomy can't miss, enjoying of a lunch in front of the sea in the coastal villages of Sa Tuna, Calella or Aiguablava… Here we will taste good fresh fish or "paella" and after this we'll have the chance of taking a refreshing bath in the clean and crystalline waters of Costa Brava.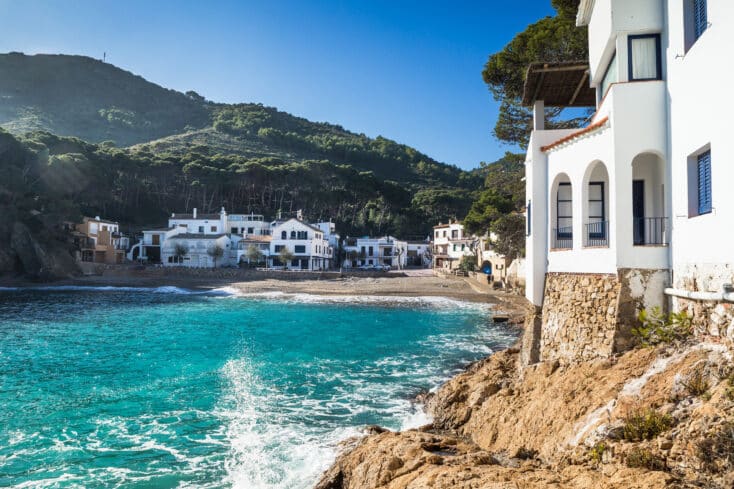 Taking the chance of escaping two or three days to Costa Brava and Emporda during your stay in Barcelona will be the ice on the cake for an unforgettable experience.
For further information regarding tours available and reservations, do not hesitate to contact us at info@mimusa.pro or directly calling us to the phone number +34 932 225 510. The team of experts of Premium Traveler Barcelona will be thrilled to accompany you during your visit to the city and together we will design a route totally personalized for you. Everything is possible with us!