If you like running and you are staying in Barcelona, here is the best way to discover the city. The Carretera de les Aigües is a 10-kilometer road located in the Collserola Natural Park, a beautiful green area a couple minutes away from the city center. Only few European cities offer a natural space like this one with such a beautiful perspective so, for us, it is the ideal way to practice sport and disconnect from the city bust. It is highly frequented by locals who love nature, running, cycling and exercise in general. Together with a personal trainer, we encourage you to discover this environment through a running session. The personal trainer will pick us up at the hotel or apartment, and by private vehicle we will drive to the starting point of the activity. We will begin with a warm-up and stretching session and will study the different options of the course. There are unpaved sand tracks, trails that cross a forest or we can even cheer you up and reach the top of Tibidabo mountain, the highest point in Barcelona. The route will always be adapted to your level, whether or not you run frequently but feel like discovering Barcelona in a different way as if you are a runner in good shape! A good route can take between 7 and 12 kms and lasts between 40 mins and 1h20 mins. Along the way we will stop at some of the most beautiful viewpoints in the city where we will take the time to hydrate us. Once back to the vehicle, we will have isotonic drinks and energy bars to regain strength. Without doubt, a very healthy, different and original way of knowing Barcelona. Let's run!
If you are a bike fan, we also have a route for you …
COLLSEROLA PARK BTT ROUTE
The mountain biking route through the Collserola Natural Park will start at the Peu del Finicular (Tibidabo Avenue) where all the high-end bikes will be prepared. From there we will ascend to the Carretera de les Aigües to make a 30 kilometer route which will take approximately 2 hours. The whole itinerary will be done around tracks and sand paths that mix different landscapes. During the trip we will ascend to the Tibidabo Amusement Park lookout, from where we will find some impressive views of the city but back to the starting point we will also enjoy a fun descent. In this case, the tracks will also be adapted to the level and experience of the participants. The route will be led by an expert cycling guide who will set the pace and explain the different places we will be riding along. You will be impressed by the natural surroundings near Barcelona and feel like being in the middle of the mountain and without leaving the city.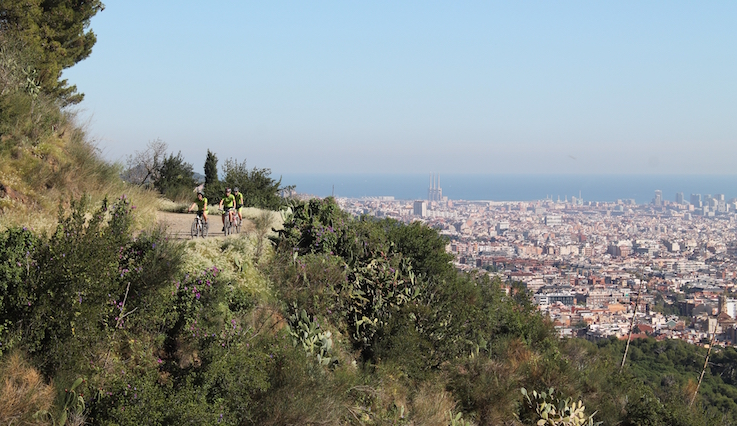 Have you been impressed by these trails? Contact us and we will organize your sports day in the city!