It's time to get perspective. Before ending this 2016, we look back and realize that it's been a year full of experiences, amazing trips and unforgettable moments from our clients! We have opened our home to travelers from USA, Canada, Singapore, Hong Kong, Brazil, Colombia, Germany, England, Switzerland with their families, couples, in form of companies, groups of friends, travel advisors, businessmen…
The best? The result of each experience and the great feedback we got from our clients due to our detailed and personalized services. Without further explanation, here is a small summary of what this 2016 has been for Premium Traveler Barcelona.
1 /TAILOR-MADE TRIPS FOR CLIENTS FROM ALL OVER THE WORLD
During this year we have organized tailor made trips for clients from all over the world, mainly couples and families. Some focused their trip in visiting Barcelona through architecture, culture and gastronomy. Others explored areas of Catalonia such as Montserrat, El Penedés (vineyard region), Costa Brava (the land of Salvador Dalí) and other regions of Spain such as Andalucía, Madrid and the Basque Country. All of them with a common denominator: we created unique, tailor made trips, choosing the most special hotels, private guide tours, suggesting the best local restaurants and with a result that has surprised every host!
2 /VERY SPECIAL TRIP FOR ONE OF THE BEST AGENCIES IN BRAZIL
During the last week of May we received a group of 12 Brazilians who visited the city of Barcelona and the best regions of Catalonia. The group was formed by the best selling agency owners from a leading Brazilian travel company present throughout South America. Our main goal was to make them discover Barcelona and to fall in love with the Catalan coast. During a week they visited, learned, tasted, lived Barcelona and Catalonia through its culture, gastronomy, architecture, history and people. By land and sea, from north to south, day and night, by foot, by boat, by segway, among vineyards and much more. The experience on behalf of the members of the group was fantastic and the testimonials received are the best proof of it!
3 /CUSTOMIZED VISIT TO ONE OF THE MOST UNIQUE WINERIES OF CATALONIA FOR LONGINES
For fourth year in a row, CSIO Barcelona hosted the Furusiyya FEI Nations Cup ™, the most important equestrian event on the international equestrian calendar, and over four days, the Barcelona Real Club Polo track hosted a total of nine competitions with the participation of the most outstanding riders and international companies that sponsored or collaborated with the event. For the occasion the company Longines, official sponsor of the CSIO Barcelona, ​​hired us to offer to its European representatives and other guests a visit to our city. Our challenge, as every time, was to make them experience a trip full of surprises, showing our best Barcelona. For the occasion, we decided to organize a visit focused on Gaudí and a further on local wine tasting and lunch in a family owned winery, a trip that they will never forget!
4 /SPECTACULAR EVENT FOR SOCIÉTÉ GÉNÉRALE
The French bank Societé Génerale relied on us to organize a dinner for their best clients, a real challenge that became a unique experience for the guests. For the occasion we chose an emblematic setting, La Llotja de Mar, where the Chamber of Commerce of the city is housed. We privatized its headquarters and celebrated a cocktail and a later dinner for 200 people with Le Chef Catering. The result, a singular event in which we open the doors and dressed up in gala one of the most exclusive buildings in the city.
5 / EXCLUSIVE EXPERIENCE FOR MERCEDES AMG
Mercedes AMG wanted to invite their best employees to an exclusive experience during the days they worked in the Circuit of Catalonia testing the new models of the German car company. Our job was to develop a proposal that would fit the philosophy of the brand but which would also surprise the staff so we decided to bring up 6 helicopters to the circuit. With them, the 45 guests  flew over Barcelona and its coast, discovering the city from the air. With an exceptional weather, this activity became a unique chance that only a few can experience!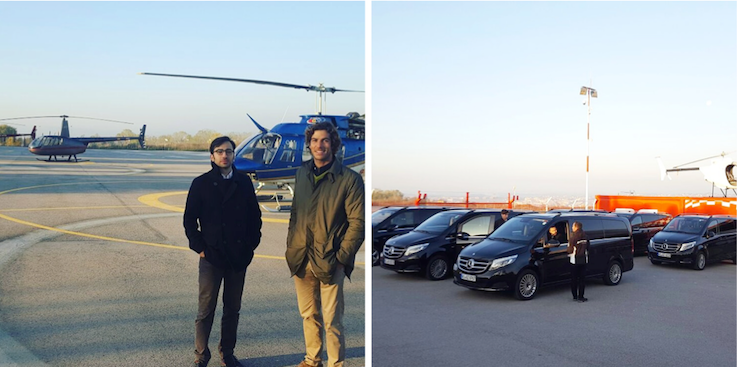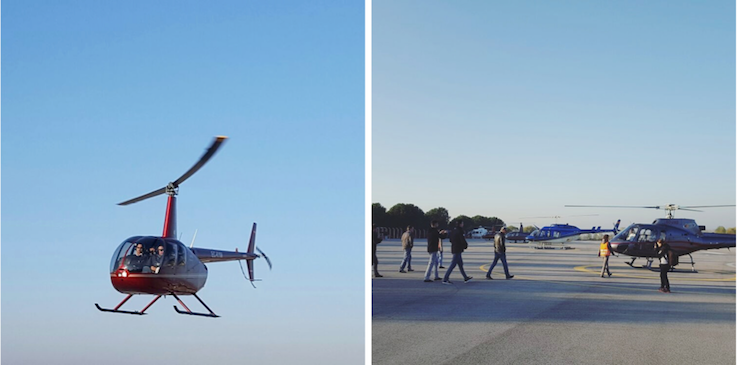 Because we love our job, we want to keep on building events and trips that become memories for a lifetime.
See you in 2017!