Other than being already consolidated as a receptive agency for luxury travel, Premium Traveler Barcelona has a department specialized in organizing events and unique experiences for people and companies. Well, Christmas is undoubtedly one of the most busy times of the year in terms of business dinners and we know that it is often not easy to find the perfect place or that your agenda probably does not allow you to worry about it.
With a very diverse portfolio of options for all types of public, we are committed to organize a very special Christmas dinner for you and your team / company. From traditional proposals framed in a historical building in our city to team building activities that end with a meal in the middle of nature. We look for customization and, above all, to help you delegate everything that becomes the organization and development of the event.
Want to know more? Attention at some ideas:
1. Wine tasting and lunch in a local cellar in the Priorat Area. Get out of the routine and escape with your team to enjoy a different day between vineyards. An unusual activity for most which will become an unforgettable experience that connects with our local culture.
2. Private dining room. We rent the private dining room of one of the most emblematic hotels of the city with service dedicated exclusively to you and a tasting menu with the best local festivity dishes.
3. Gaudí route with lunch/dinner. As locals, we ignore many of the architectural gems that our city has. What do you think of a specialized route dedicated to Gaudí with an expert guide? We will finish the visit at a venue with great historical value and a menu prepared by a local known chef.
4. Lunch or dinner in a special surrounding. A few minutes away from the city we have charming spaces where we can organize events that will allow you to disconnect from work for a while. We propose a lunch in an old greenhouse or in a restored Catalan farmhouse.
5. Sports car and lunch/dinner with a view. If you are searching for speed or strong emotions, you and your team will like to drive a luxury sports car while you overlook some of the most beautiful roads of the Catalan coast. You will end the evening with a dinner in a restaurant 75 m above the sea.
6. Sail along the coast and eat on board. From the road to the sea, another different option to enjoy a day outdoors with your team members is while sailing on a boat. Would you also like to eat on board? We will bring a catering with a selection of local products to extend your experience in the sea and can even combine it with a music band.
7. Spanish ham tasting and premium lunch. Maybe you just want to relax and find a nice place to have a meal with your company. In this case we propose a Spanish ham tasting accompanied by a lunch with incredible views of the coast and the city. We select the best spots in order to surprise every team member.
8. City visit and lunch/dinner in a art gallery. Finally, we propose a historical route through the center of Barcelona and a dinner in an art gallery. An option that will make expats fall in love with the city but that will also amaze locals.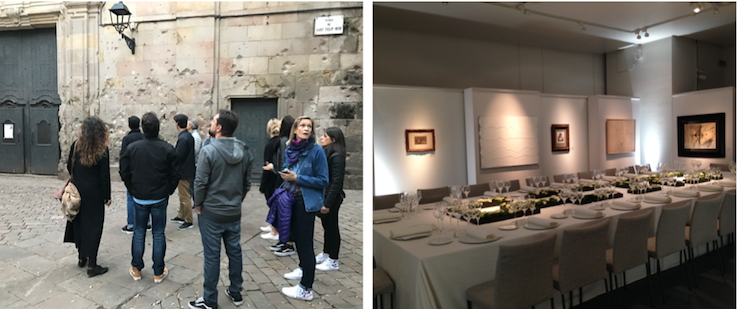 We have given you 8 ideas of what could be your Christmas event but all our proposals are unique and exclusive, made to measure according to the number of people, the type of company and the activity that you want to celebrate. We will also find personalized gifts for each of your workers if you want to go one step further.
Contact us and we will help design your perfect celebration! Contact through info@mimusa.pro or call us at +93 222 55 10
If you want to know more about our services for companies, visit https://mimusa.pro/Premiumtravelereng/negocios/corporate-events