We are local
The fact of living in Barcelona and being able to visit its hotels constantly helps us judge better what room fits best your trip. You will not assume risks because we guarantee a good rest, an essential reason when traveling.
¿Why should you spend time comparing? We will do it for you
We only need a small briefing of what you wish in order to propose you different hotel options that adjust to your preferences. Do you want to stay in the best suite in town? Would you rather prefer a boutique hotel in the old town? Or do you dream of a room with a sea view? We have answers to all of these questions!
Our relationship with suppliers helps us have better rates 
It is obvious that we become intermediaries and that our work is paid but many people think that this comission is paid by the customer! Well, in most cases this is not true because our relationship with each hotel guarantees the same prices than what you will be able to find online. Plus, you will save all the time wasting!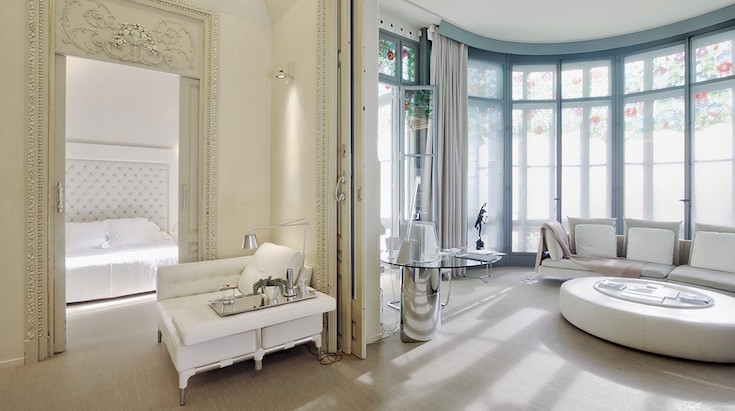 Suite Mezzanine El Palauet
Personalized service
We now understand that the rates are the same than online but what added value do we give you? You will not have to worry about sending mails or calling from the other side of the world. Let us take care of making a reservation of the best room, ready for your arrival with all the extras you need.
Siempre tendremos un detalle
Solo por ser cliente nuestro tendrás muchas ventajas. Tu vuelo sale por la noche? Intentaremos gestionar un late check-out. Has reservado la mejor suite del hotel? Intentaremos incluirte el desayuno en el precio de la habitación. Y quién sabe, puede que encuentres un detalle de bienvenida a tu llegada! Siempre buscaremos alguna razón para que te sientas cómodo con nosotros.
¿Aún crees que es mejor reservar una habitación por tu cuenta? Escríbenos y organizaremos toda tu estancia en España! info@mimusa.pro
We will always have an extra small gift
Just for being our customer you will enjoy of many advantages. Your flight leaves at night? We will try to manage a late check-out. Have you booked the best suite in the hotel? We will try to include you breakfast in the room rate. And who knows, you might find a welcome gift on your bed! Our will is for you to always find a reason to feel comfortable with us.
Do you still think that it's better to book a room on your own? Write to us and we will organize your entire stay in Spain!