Welcome to one of the most complete cities in the world. Not only for its cultural diversity, activities, historical value and its economic asset. Barcelona has beaches, mountains, Mediterranean climate and belongs to a pioneer country in gastronomy. For you to get the most out of the city, here are our 48 premium hours in Barcelona.
Friday
4pm
Stay at The Serras Hotel, an elegant five-star hotel overlooking the Mediterranean but with unparalleled artistic value. The back view of the hotel is the same one that Pablo Picasso observed and painted from his studio, located in the same building. Taste a glass of champagne while a guest relations advises you and accompanies you throughout your trip to make your stay as comfortable as possible.
6pm
To start having a taste of what the city looks like, there is nothing better than strolling around the city center discovering the most authentic bars where you will taste from the most traditional tapas, such as the "tortilla", to the most creative and sophisticated gastronomic proposals. In Vilaviniteca you can combine a Catalan wine with selected cheese or Spanish ham. Further on and produced by Albert Adrià (Ferran Adrià's brother) we will try elaborated local dishes. We highly recommend to do this itinerary guided by a chef who has worked in el Bulli, the best restaurant in the world, who will show us how to combine each dish.
8pm
If you are still hungry and want to finish this gastronomic experience with another selection of proposals, you can dine at the Cañete Bar or Bar Brutal, two local restaurants that will surprise you not only for the dishes they offer but for their extended wine selection.
10pm
Friday nights in Barcelona end up with a drink in the best hotels. The OMM hotel offers DJ sessions every weekend that combine House, Electronic and Dance music. Another option is Bocachica, attached to the restaurant Bocagrande and a must stop for the most trendiest people in town who want to savor the best cocktails.
Saturday
Are you one of those who work out when traveling? Wake up with the best city views while you run around the Montjuic area. Next, we recommend to wander around l'Eixample where you will find Barcelona's most important Modernist works: la Pedrera, Casa Batlló, Sagrada Familia… Those who search for fascinating experiences will have a helicopter waiting to fly around the city and get a unique perspective.
2pm
Barcelona overlooks the sea and, thanks to the pleasant Mediterranean climate, we like to constantly enjoy of meals by the beach. Our recommendation is to make a reservation in Marea Alta, a restaurant which offers fresh fish and great rices which you can mix with a local Catalan wine.
5pm
Walk around el Born, one of the trendiest areas in the city and melting pot of young designers that get mixed with art galleries. In La Comercial, a group of concept stores in the area, you will find anything you are looking for: fashion for men and women, decoration, children's clothing, accessories …
9pm
It's Saturday and we need a special dinner place so we benefit from the fact that Catalonia is one of the areas of reference in terms of gastronomy. In both ABAC (3 Michelin stars) and Moments (2 Michelin stars), you will taste a menu based in seasonal creations and the best raw material. If you would rather prefer breathtaking views while experiencing the best Mediterranean cuisine, your table is in La Torre de Altamar, a restaurant 75m high.
11pm
It's party time and the good thing about our next stop is that it combines an amazing party with great city views. Until 3am you will be able to dance in the W Hotel club with the best cocktails and DJ performances.
Sunday
12am
Sundays are Brunch days in Barcelona. Book a table at Jaime Beriestain, one of our favorite interior design shops in the city which also has a restaurant/bar which offers a Brunch Menu on Sundays.
3pm
How about ending your trip with a sailboat ride to see the city from another point of view? Relax and connect with the Mediterranean while enjoying the sun. If the weather is not great or if you are more of a ground person, wander around parks and avenues with a Brompton bike, an option that will allow you to see how Sundays are celebrated in the city!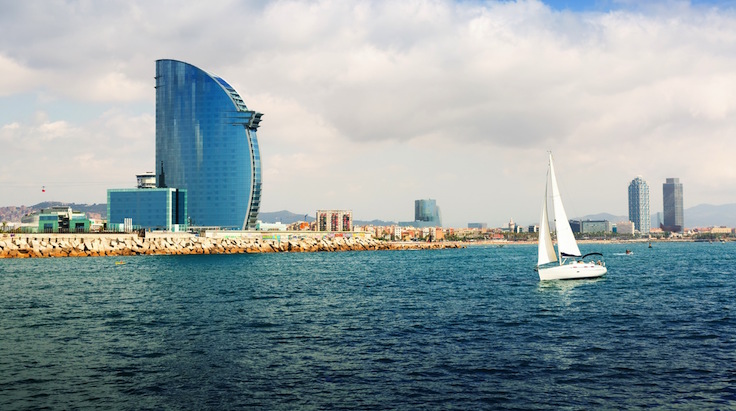 Do you still want to know more about our city? Become a local with us… We are waiting for you!