"It's been one of the best trips of our lives"
Patricia and Mauro trip around Spain
Last June we had the pleasure of organizing a tailor made-trip to Patricia and Mauro, visiting some of the most beautiful places in Spain. Brazilians, from Rio de Janiero, are sophisticated travelers who like special and singular places, the luxury of the authentic, meeting local people and discovering the local culture through gastronomy while staying in charming hotels.
We organized a 14 day trip around Barcelona, Costa Brava, Andalusia and Madrid to discover some of the most interesting cities and regions in Spain. Throughout the tour, we selected the best boutique hotels, a selection of our favorite restaurants and organized the most special tours and experiences that best suited their profile. We also took care of all the logistics in vehicles with private driver and other details that allowed Patricia and Mauro to worry just about enjoying and relaxing.
ITINERARY:
1.Barcelona (Catalonia)
2. Empordà / Costa Brava (Catalonia)
3. Ronda (Andalusia)
4. Seville (Andalusia)
5. Madrid (Madrid)
PART 1: BARCELONA
Patricia and Mauro began their trip in Barcelona, stayed in the Hotel Mercer 5 * GL, a boutique  hotel full of history located in the Gothic Quarter. In addition to walking around the most important  districts and visiting the most emblematic buildings, they discovered the Montserrat mountain as  well as a local winery in the Penedés region. Followed by David, an expert sommelier who  passionately conveys his love for wine, they learned about the local culture, tasted a selection of  wines from the region and had lunch with typical Catalan products between vineyards. We knew  they were both passionate foodies so during their stay in Barcelona, they also had the opportunity  to try some of the best haute cuisine restaurants, like the ABAC with 2 Michelin stars.
PART 2: EMPORDÀ / COSTA BRAVA
After a few days in Barcelona, Patricia and Mauro traveled to northern Catalonia, the Empordà  region and La Costa Brava, one of the most beautiful areas in Europe. They stayed at the hotel  Mas de Torrent, a 5 * Relais & Chateau located in a Catalan style old farmhouse of the 16th  century with an incredible SPA. To get the most out of the area, we prepared an electric bike route  around some of the medieval villages with an expert guide, sailed on a vintage-style sailboat  surrounded by crystal clear water, visited Girona and had lunch at Celler de Can Roca (3rd best  restaurant in the world). There they had the privilege of meeting the Roca brothers. They also  visited Cap de Creus, Dalí's hometown and where you probably find one the most beautiful village  in the area, Cadaqués. Here they had lunch in "Compartir", owned by chefs who used to work in  famous El Bulli from Ferrán Adrià.
PART 3 & 4: RONDA AND SEVILLE (ANDALUSIA)
Patricia and Mauro continued their trip in Ronda, one of the most charming cities of Andalusia and we chose a beautiful boutique hotel surrounded by nature, the Hotel Fuente de la Higuera, for their  stay. The first day they visited the village together with Alfredo, an expert local guide with whom  they discovered the famous Tajo river, the oldest Bullring plaza in Spain and many other magical  places hidden in the town. The second night, which was very special for the couple, we booked a  table in a restaurant with amazing views and exquisite gastronomy where they enjoyed of a  magical sunset. During their stay in Ronda they also discovered the famous white villages,  considered the most beautiful in Spain. Further on, they traveled to Seville and slept in the Hotel  Mercer Seville 5 * GL, located in a 19th century old palace. Other than visiting the old town with an  expert guide, they attended the most authentic flamenco show in the city. We also organized a visit  to the coast of Andalusia with some of the most beautiful virgin beaches in Spain.
PART 5: MADRID
The couple ended their trip in Madrid, housed in the famous Ritz Hotel, a classic with lots of history. During these two days, in addition to continuing to enjoy the best gastronomy in the city, having lunch and dinner in renowned restaurants such as Paraguas, Ten Con Ten or Tatel, they visited the capital with Veronica, an art specialized guide who took them to the iconic museum of el Prado. It was also the best place for some shopping. After 14 intense days discovering Spain through its landscapes, its culture, history and gastronomy, Patricia and Mauro made their way back to Brazil with wishes to return very soon to Spain.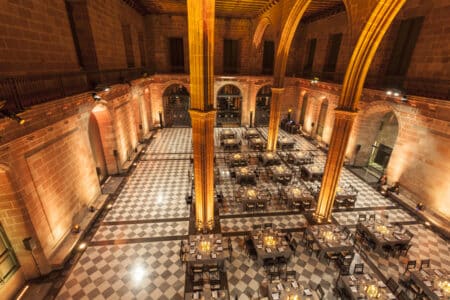 Société Générale chose us to organize a gala dinner for 180 people in one of the most emblematic and elegant spaces in Barcelona.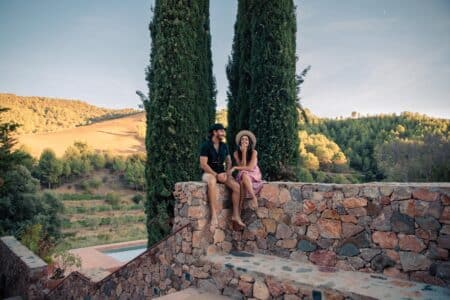 An unforgettable trip discovering some of the most beautiful landscapes of Catalonia.
CONTACT
WE ARE WAITING FOR YOU