Amazed with the landscapes of the region
Mish and Kirk trip around Catalonia
WHO
MISH & KIRK (INFLUENCERS FROM AUSTRALIA)
Last October we organized a fantastic trip for Mish & Kirk, a couple from Australian. The purpose of their trip was to get to know some of the most interesting territories in Catalonia and enjoy a romantic experience. At Premium Traveler Barcelona we designed a totally personalized trip to enjoy Catalonia with the 5 senses and without having to worry about anything. In total the trip lasted 9 days and toured the regions of Barcelona, ​​Girona, the Costa Brava and the Priorat. In each of the destinations they stayed in exclusive hotels, visited very interesting places and lived unique experiences. Thanks to the fact that both of them are very good photographers, we are lucky to have a large part of the trip illustrated with beautiful photographs. Keep reading…
PART 1:
The first two days were in Barcelona. In addition to visiting the Sagrada Familia, they toured the Gothic Quarter, the Barceloneta Beach… and traveled to the Montserrat mountain, where they hiked with an expert guide. During their stay in Barcelona they also had time to relax on the rooftop of their hotel, El Palauet 5 *, located in Paseo de Gracia, the most emblematic avenue in Barcelona.
PART 2:
After 2 days in Barcelona they traveled to the Costa Brava. There they stayed at Hostal La Gavina 5 *, a hotel located in a totally privileged place facing the sea. During their stay in the Costa Brava we organized various activities and private experiences such as sailing on a sailboat through the crystalline waters of the Costa Brava or enjoying an electric bike tour through the medieval villages of the region… we also managed reservations in the best restaurants in the area to savor the best local cuisine.
PART 3:
The next destination was Girona. They stayed at the Hotel La Fortaleza 5 *, a hotel that had been an old fortress and has now been transformed into a space where art, gastronomy and architecture merge. During their stay in Girona, in addition to relaxing and enjoying the hotel, they discovered the old town of Girona (one of the most beautiful in Spain), visited the medieval town of Besalú and flew over the Natural Park of the Garrotxa Volcanic Area in a hot air balloon, the best way to contemplate the craters of sleeping volcanoes.
PART 4:
The last two days were spent in the Priorat, a wine area located south of Catalonia. There they stayed at Hotel Terra Dominicata 5 *, a hotel fully integrated into the landscape and designed to enjoy the place. During their stay in the Priorat they visited small wineries in which wine of great quality and international reputation is produced, and the beautiful villages of the area such as Siurana or Escaladei.
Premium Traveler Barcelona was responsible for organizing all the details of the trip. From the design of the itinerary to the choice and reservation of hotels, guides, boat or bicycle routes, restaurants in each area, etc.
Mish & Kirk were amazed and surprised. They did not know that Catalonia was a place with such an interesting natural, cultural, gastronomic richness, and that in such a "small" territory there could be such an impressive diversity of landscapes. They are already looking forward to returning.
END OF THE TRIP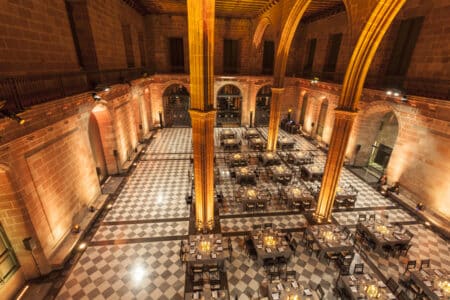 Société Générale chose us to organize a 180 people dinner in one of the most emblematic and elegant spaces in Barcelona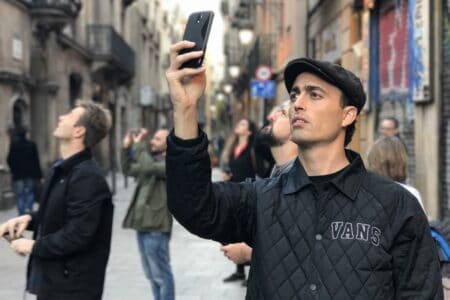 We designed inspiring and creative activities for 35 Vans Global Managers visiting Barcelona
CONTACT
WE ARE WAITING FOR YOU